A Solitary Place

Episode

12 of season 2

Director

Jeffrey Hayden

Writers

Jim Tisdale, Migdia Chinea-Varela

Original airdate

January 24, 1979

Alias

David Bailey

Location

Baja, Mexico

Preceded by

Followed by

A Solitary Place is episode twenty-four of the live-action TV series The Incredible Hulk. It originally aired on January 24, 1979 on CBS.
Synopsis
[
]
Fearing the dangers of transforming into the Hulk and struggling to deal with the loss of his wife Carolyn, David retreats to the wilderness of Baja Mexico, in order to live a primitive existence away from civilization. Unfortunately, this plan goes awry with the arrival of a fugitive doctor, a vengeful family and Jack McGee.
Cast
[
]
Kathryn Leigh Scott as Dr. Gail Collins
Jerry Douglas as Frank Malone
Hector Elias as Raul
Bruce Wright as Joey Malone
Tony Melendez as Pablo
Jay Varela as Ramon
Highlights
[
]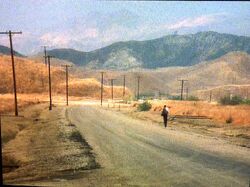 Hulk out 1: Having a bunch of planks fall on him during a storm and flood
Hulk out 2: Somehow running into a bear trap
Trivia
[
]
In this episode, we find out that David has set a personal record since his last transformation: 32 days.