Another Path

Episode

6 of season 2

Director

Joseph Pevney

Writer

Nicholas Corea

Original airdate

October 27, 1978

Alias

David Brahmer

Location

San Fransisco, CA

Preceded by

Followed by

Another Path is episode six in season two of the live-action TV series The Incredible Hulk. It originally aired on October 27, 1978, on CBS.
While stowing away in the back of a truck, David meets a blind Chinese philosopher who offers him the chance to cure his affliction using Chinese meditation techniques. David follows Li Sung back to San Francisco only to become inadvertently involved in a battle against a rival in Li Sung's community.
Mako as Li Sung
Irene Yah-Ling Sun as May Chuan
Tom Lee Holland as Steve Silva
Joseph Kim as Chien Fong
Richard Lee-Sung as Simon Ming
Jane Chung as Gramma Loo
Sam Tampoya as Jim Fong
Helene T. Nelson as Receptionist
Eric Stern as Driver
Highlights
Edit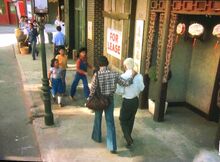 This episode has a nice twist that breaks away from traditional Hulk episodes.
The entire scene in which Li Sung and Hulk storm Steve Silva's martial arts school.
Hulk out 1: Locked in the back of a truck by some mean guys who then turn on the refrigeration system and David grabs the pipe that is below freezing temperature.
Hulk out 2: Being tied up and fed soup by an elderly Japanese woman who does not understand words like "You've gotta untie me" or "You've got to cut me free!"
This is the first episode where David Banner refers to his alter ego as the Hulk.
Community content is available under
CC-BY-SA
unless otherwise noted.