Avengers: Endgame

Directed by

Anthony Russo & Joe Russo

Produced by

Kevin Feige

Screenplay by

Christopher Markus & Stephen McFeely

Based on

Hulk portrayed by

Release date

April 26, 2019 (U.S.)

Budget

$350–400 Million
The Avengers is a 2019 superhero film produced by Marvel Studios based on the Marvel Comics superhero team made up of Iron Man, Thor, Black Widow, Captain America, Hawkeye, and the Hulk.
Robert Downey Jr. as Tony Stark/Iron Man
Chris Evans as Steve Rogers/Captain America
Mark Ruffalo as Bruce Banner/Hulk
Chris Hemsworth as Thor
Scarlett Johansson as Natasha Romanoff/Black Widow
Jeremy Renner as Clint Barton/Hawkeye
Don Cheadle as James "Rhodey" Rhodes/War Machine
Paul Rudd as Scott Lang/Ant-Man
Brie Larson as Carol Danvers/Captain Marvel
Bradley Cooper as Rocket
Gwyneth Paltrow as Virginia "Pepper" Potts/Rescue
Josh Brolin as Thanos
Samuel L. Jackson as Nick Fury
Stan Lee as Driver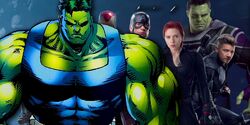 The surviving heroes from infinity war are reunited with Tony Stark and Nebula as they return from space with help of Captain Marvel. Stark has a breakdown in front of the other heroes where he pulls out his Arc Reactor nearly killing himself. After he has been subdued, stabilized and sedated the remaining heroes follow an energy signal to a far off planet where Thanos now resides on his farm. The Avengers surprise attack him with Thor cutting off his right arm preventing Thanos from using the gauntlet and the power of the stones. After the other characters apprehend him, they learn that Thanos destroyed the six Infinity Stones as to prevent anyone from undoing his judgment on the universe. In a fit of rage, Thor slices off the titan's head killing him instantly. All hope is lost for the heroes as they return home.
Five Years Later
Edit
The reunited Avengers split into groups for their mission. Banner, Rogers, Lang, and Stark travel to New York City in 2012. Banner visits the Sanctum Sanctorum and convinces the Ancient One to give him the Time Stone. She warns him of the consequences of removing the Infinity Stones from the past, and Banner promises to return them. Rogers overcomes undercover Hydra agents and his 2012 self to retrieve the Mind Stone, but Lang and Stark's attempt to steal the Space Stone fails and Loki manages to escape with it. Rogers and Stark use the last of their size-altering Pym Particles to travel to the U.S. Army's Camp Lehigh in 1970.
Hulk-outs
Edit
None this time. See Professor Hulk.
In the comics
Edit
The original Avengers: Endgame was in the December 1969 Marvel Comics issue, The Avengers #71 – Endgame. It was edited by Stan Lee.[1]
References
Edit
Community content is available under
CC-BY-SA
unless otherwise noted.