Babalao

Episode

10 of season 3

Director

Richard Milton

Writer

Craig Buck

Original airdate

December 14, 1979

Location

New Orleans, LA

Preceded by

Followed by
Babalao is episode ten in season three of the live-action TV series The Incredible Hulk. It originally aired on December 14, 1979 on CBS.
Amidst Mardi Gras, David helps a young doctor prove to a poor, superstitious community that a local witch doctor is a fraud.
Louise Sorel as Dr. Renee DuBois
Bill Henderson as Antoine Moray / Babalao
Michael Swan as Luke
Paulene Myers as Selene
Jarrod Johnson as Louie
Christine Avila as Denise
Morgan Hart as Girl
John Gowans as Local
Highlights
Edit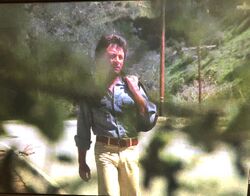 Hulk-out 1: Being thrown under a New Orleans Mardi Gras parade float by a mean guy in a gorilla suit who gives David a few kicks for good measure
Hulk-out 2: Making the High Priest of the Baba Yaga voodoo cult so angry with him by challenging a perfectly normal ritual sacrifice that several of the Priest's minions are obliged to beat the stuffing out of David and throw a cloak over his head
A babalo (or babalawo), the title Antoine Moray uses, is a priest in Yoruba religion, not Voodoo. A mambo, the title Renee uses when dealing with believers in Voodoo, is a priestess in Voodoo (the male equivalent term is houngan). But, since Antoine Moray is a con artist, mixing religious concepts would still make sense.
Community content is available under
CC-BY-SA
unless otherwise noted.