Blind Rage

Episode

2 of season 3

Director

Jeffrey Hayden

Writer

Daniel B. Ullman

Original airdate

September 28, 1979

Alias

David Blair

Preceded by

Followed by
"Blind Rage" is episode twenty-four of the live-action TV series The Incredible Hulk. It originally aired on September 28, 1979 on CBS.
David's life is in peril when an accident at chemical warfare test site leaves him blinded and at the mercy of a corrupt military official.
Lou Ferrigno ... The Hulk
Nicolas Coster ... Col. Drake
Jack Rader ... Major Anderson
Lee Bryant ... Carrie Banks
Tom Stechschulte ... Lt. Jerry Banks
Don Dubbins ... Sgt. Murkland
Michael Alldredge ... Sgt. Sam Stanley
Michelle Stacy ... Patty Banks
Dennis Fimple ... Sergeant
Michael Horsley ... Ambulance Driver
Meshach Taylor ... M.P.
Leonard Lightfoot ... Brubeck
Mitch Reta ... Mahalovich
Gary Devaney ... Sentry
Highlights
Edit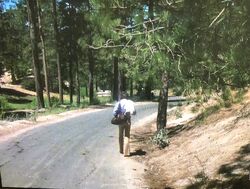 Bixby does a good job portraying a helpless blind man
The Hulk faces off against a military tank
Hulk out 1: Wandering into an Army dump to get the deadly canister of army nerve gas that has blinded his friend, only to be caught by a mean MP who knocks his gas mask off and throws him back down the hill, knocking the canister open so that David can frantically try to put his mask back on before looking up to see that the MP has somehow brought in a crane and is dumping two tons of garbage on him (an unusually bizarre situation)
Hulk out 2: While blinded for the episode, wandering across an Army training course, and then veering into the training minefield (really has to be seen to be believed)
Community content is available under
CC-BY-SA
unless otherwise noted.