Broken Image

Episode

12 of season 3

Director

John McPherson

Writers

Karen Harris, Jill Donner

Original airdate

January 4, 1980

Alias

David Bowman

Preceded by

Followed by
Broken Image is episode twelve in season three of the live-action TV series The Incredible Hulk. It originally aired on January 4, 1980 on CBS.
While working as a building superintendent, David 'Bowman' crosses paths with a criminal who looks exactly like him! Things turn ugly when other criminals mistake David for the other man and Jack McGee makes the startling discovery that David Banner might still be alive!
Bill Bixby ... David Banner & Mike Cassidy
Lou Ferrigno ... The Hulk
Karen Carlson ... Lorraine
John Reilly ... Steve
Jed Mills ... Teddy
Chris Wallace ... Danny
Erica Yohn ... Woman with Dog
George Caldwell ... Pete
Enrique Castillo ... Larry
Donald Carter ... Police Lieutenant
Al White ... Police Sergeant
Sally Sommer ... Miriam
Highlights
Edit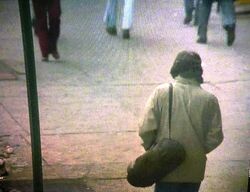 A terrific (and rare) sequence involving Bixby and Colvin facing off on camera together
Hulk out 1: Being mistaken for the mob boss who everybody wants to beat up, David is repeatedly beaten up for no reason
Hulk out 2: Buried in cement by the mob
This episode was nominated for an Emmy for Outstanding Cinematography
Guest star Jed Mills also appeared in the season four episode "Bring Me the Head of the Hulk"
When McGee is interviewing David's neighbor, she asks if what The National Register reported about the "Six Million Dollar Man" was true – a clear reference to the TV series (also produced by Kenneth Johnson)
The alias "David Bowman" may have been inspired by the protagonist of the 1968 film 2001:A Space Odyssey
Community content is available under
CC-BY-SA
unless otherwise noted.