Deathmask

Episode

20 of season 3

Director

John McPherson

Writer

Nicholas Corea

Original airdate

March 14, 1980

Alias

David Brent

Location

Prestonville

Preceded by

Followed by
Deathmask is episode fifty-four of the live-action TV series The Incredible Hulk. It originally aired on March 14, 1980 on CBS.
While working at a University campus, David is implicated as the murderer of several young female students. Arrested, David is forced to contend with an angry mob while the real killer is poised to kill the woman he has been seeing.
Gerald McRaney as Chief Frank Rhodes
Melendy Britt as Joan Singer
Frank Marth as Mayor Tom Fowler
Marla Pennington as Miriam Charles
Lonny Chapman as J.J. Hendren
Michael Bond as Sid Fox
Don Marshall as Willy
Dennis Bowen as Dale Jenks
Robert Lunny as Newsman
Desiree Kearns as Young Blond Woman
Kieran Mullaney as Young Man
Highlights
Edit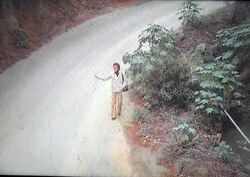 Provides a chilling story for true Hulk fans
Hulk-out 1: Trying to stop the psycho from driving off with his friend only to be dragged by the car across the parking lot, and then having the psycho yank the wheel so that David is thrown across the lot into a bunch of broken boxes
Hulk-out 2: Being handcuffed in an office by the psycho (who turns out to be the chief of police), and then having an angry mob break through the door and through the makeshift barricade David tries to make (while still handcuffed), and then having the mob proceed to throw him against the wall and beat the living daylights out of him
Gerald McRaney ("Simon and Simon", "Major Dad") makes his fourth and final appearance.
Community content is available under
CC-BY-SA
unless otherwise noted.