Deep Shock

Episode

5 of season 4

Director

Reza Badiyi

Writer

Ruel Fischmann

Original airdate

December 12, 1980

Alias

David Benton

Preceded by

Followed by
Dark Side is episode five in season four of the live-action TV series The Incredible Hulk. It originally aired on December 12, 1980, on CBS.
David rescues a co-worker at the power plant. The power of the Hulk saves his life, but the Hulk is electrocuted. His vision becomes blurry, and the Hulk falls, becoming unconscious. awakens to find himself with the ability to see into the future. One of his visions includes David's worst nightmare: a murder seemingly committed by the Hulk.
Tom Clancy as Edgar Tucker
Edward Power as Frank
Sharon Acker as Dr. Louise Olson
Stefan Gierasch as Mr. Buchanan
Robert Hackman as Walt
M.P Murphy as 1st Security Officer
Helen Boll as Nurse
Harriet Matthey as Receptionist
Saundra Sharp as Reporter
Charles Hoyes as 2nd Security Officer
Robert Alan Brown as Foreman
Highlights
Edit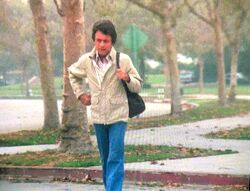 Hulk-out 1: Trapped on a platform with the worker who is having a heart attack, and being showered with electrical sparks.
Hulk-out 2: Crawling through the sensitive, highly dangerous electrical service tunnel, only to accidentally kick several of the electrical cables loose and flailing around near the hot water pipes so that he can be practically electrocuted.
Edward Power previously appeared in season one episode "747."
This is the second episode of the series where we see the Hulk fall unconscious on-screen, and be, essentially, defeated by a mutual force.
Community content is available under
CC-BY-SA
unless otherwise noted.