East Winds

Episode

11 of season 4

Director

Jack Colvin

Writer

Jill Sherman Donner

Original airdate

February 20, 1981

Alias

David Barrett

Location

San Francisco, California

Preceded by

Followed by
East Winds is episode sixty-eight of the live-action TV series The Incredible Hulk. It originally aired on February 20, 1981 on CBS.
While staying in Chinatown, David gets mixed up in an affair involving Chinese gangsters, an aging police officer, a pretty Chinese girl and a bathtub full of gold.
Richard Loo as Kam Chong
Irene Yah-Ling Sun as Tam
Richard Narita as William Chimoda
Beulah Quo as Huyn
William Windom as Sgt. Jack Keeler
Tony Mumolo as Officer Bill Menning
Del Monroe as The Lieutenant
Highlights
Edit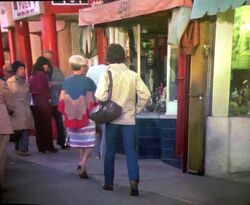 Another solid directing job by Colvin; the episode is quick and exciting
Hulk-out 1: Being fed poisoned sushi
Hulk-out 2: Tied up by the Chinese mob in San Francisco and thrown in his bathtub with the shower blasting scalding hot water on him
This episode was originally scripted under the title "The Golden Fleece"
This is the second (of two) Hulk episodes directed by Jack Colvin (The other was "Goodbye, Eddie Cain")
The start of the first "Hulk out" bears striking similarities to a scene from Bixby's 1973 film Steambath, in which his character dies after being poisoned at a Chinese restaurant
Community content is available under
CC-BY-SA
unless otherwise noted.