Equinox

Episode

21 of season 3

Director

Patrick Boyriven

Writer

Nicholas Corea

Original airdate

March 21, 1980

Alias

David Beldon

Location

Private island off of Maine

Preceded by

Followed by
Equinox is episode fifty-five of the live-action TV series The Incredible Hulk. It originally aired on March 21, 1980 on CBS.
While working for a spoiled heiress on her island estate, David finds himself at a masquerade ball, also attended by Jack McGee and a killer interested in terminating the existence of his boss.
Christine De Lisle as Diane Powell
Paul Carr as Alan Grable
Henry Polic II as Donald
Louis Turenne as Pierce
Danny Dayton as Skipper
Joy Garrett as Tina
Robert Yannetti as Carlo
Mark Thomas McGee as Sir Francis Drake
Alexis Adams as Girlfriend
Kathie Spencer Neff as Inquisitor
Highlights
Edit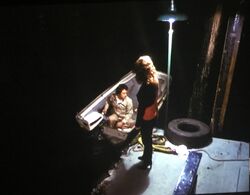 This episode contains a terrific scene in which McGee corners a masked David Banner. McGee explains his motives for capturing the creature while David explains that he wants to be left alone and the Hulk is not a murderer.
Hulk-out 1: Being trapped by McGee in a library, as he tries to run away he bashes his knee, falls down stairs and crashes into a giant flower pot. (The opening scene of the episode shows the Hulk running from McGee.)
Hulk-out 2: Beaten up while trying to keep the incoherent man from strangling the woman who locked David in the closet, and then having the man attempt to close the closet door on David's head.
Director Patrick Boyriven was married to Mariette Hartley ("Married") at the time
This episode is sometimes billed as 'Masquerade' (possibly the original working title)
This is the only episode in season three where the Hulk does not take off the ripped shirt
When the Hulk transforms back into David at the beginning, the stock footage used was from "Death in the Family" (1.2)

Discontinuity: In the new footage the hulk has a white and red colored ripped shirt, and when he transforms back, he has a blue shirt
Community content is available under
CC-BY-SA
unless otherwise noted.