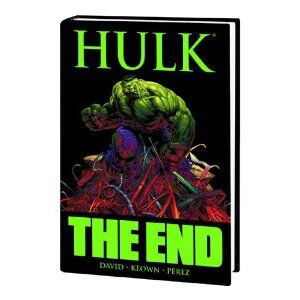 Chronicling the final days of the Green Goliath! Peter David and Dale Keown, creative team on some of the Hulk's most memorable tales, reunite to produce this searing vision of the future in which Bruce Banner, the Incredible Hulk, is the last man on Earth.
Plus: The testing of the first Gamma Bomb thrust upon Robert Bruce Banner that which he would come to believe would be his greatest nightmare: his unwilling transformation into the Incredible Hulk. He believed wrong. Now, having been dragged into the future - into a post-holocaust, dystopian world - Bruce Banner discovers that his nightmare has a whole new name: the Maestro! This is a nightmare that only Hulk can end. For he knows that he himself is responsible for the presence of the evil Maestro.
The future, our future, and the Incredible Hulk will never quite be the same, courtesy of Peter David and George Perez.