Inhuman Nature

Episode

22 of season 1

Director

Patrick Archibald

Writer

Adam Beechen

Original airdate

June 15, 2014

Location

Preceded by

Followed by
A-Bomb's crush on a mysterious girl named Crystal leads the Agents of S.M.A.S.H. to the secret home of the Inhumans, an isolationist race that keeps themselves cut off from mankind. The Agents of S.M.A.S.H. even take action when Maximus the Mad makes plans to annihilate mankind. A-Bomb and Skaar visit the beach, but their appearance upsets all the other people. A-Bomb thinks it is a shark that is in the water but then realized it was their appearance. A-Bomb however happens upon a very enthusiastic and flirty girl called Crystal and the two seem to quickly form a bond. A cloaked Triton spoils the fun for the young folks and Rick is accidentally transported via Lockjaw back to the hidden land of Attilan. Crystal and Rick, discoverMaximus' secret stash of weapons and the Royal Family of the Inhumans and the Agents of S.M.A.S.H. team up to stop the traitor.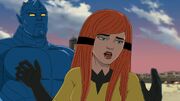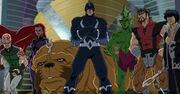 Cast (voices)
Edit
Highlights
Edit
Maximus accuses the team of being human invaders, and the fight begins. Fighting happens. Crystal and Lockjaw teleport to go get Rick, and the fight continues. Hulk demands Rick back, and Black Bolt answers with his fist, knocking out the Hulk for a few seconds. Crystal returns, A-Bomb in tow, and stops the fighting with her wind powers. She accuses Maximus of secretly building weapons to destroy all humans, Maximus pulls the race card (said race being Inhuman), the Hulks declare peace, Black Bolt tells them to GTFO, Maximus whispers more poison into Black Bolt's ear, the team gets gassed except for A-Bomb, Maximus sends some Inhumans after A-Bomb, A-Bomb and Crystal sneak off to no doubt expose Maximus as evil, and the Hulks are taken away in shackles.
External Links
Edit
Community content is available under
CC-BY-SA
unless otherwise noted.