Interview with the Hulk

Episode

15 of season 4

Director

Patrick Boyriven

Writer

Alan Cassidy

Original airdate

April 3, 1981

Alias

David Butler

Locations

Chicago, IL; Atlanta, GA

Preceded by

Followed by
Interview with the Hulk is episode fifteen in season four of the live-action TV series The Incredible Hulk. It originally aired on April 3, 1981 on CBS.
Emmerson Fletcher, a great reporter who's career nose-dived after the death of his daughter Lisa finds himself working for the National Register—much to the annoyance of Jack McGee. While McGee is out of the office, Fletcher steals one of McGee's Hulk leads and discovers that David Banner is very much alive. Fletcher blackmails David into telling his story. Though reluctant at first, the two learn to respect each other and recognize each other's pain. Unfortunately, McGee learns what happens and is hot on both of their trails.
Michael Conrad as Emmerson Fletcher
Walter Brooke as Mark Roberts
Jan Sterling as Stella Verdugo
David Carlile as Foreman
Lynne Seibel as Doctor
Stacey Holman as Lisa Fletcher
Jay Fletcher as Charlie Jamerson
Highlights
Edit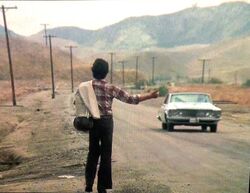 A very touching story as David recounts the events from the pilot episode and his subsequent struggle
Only one Hulk-out occurs in this episode

Instead of the normal first one, stock footage of the Hulk is taken from the episodes "Pilot," "Married," and "Dark Side"
Trying to escape his apartment before Jack McGee finishes bashing in the front door with an ax, by smashing the bathroom window, only to grievously cut himself on the broken glass
The visual pun on a notice within the National Register headquarters that the publisher is "Robert B. Steinhauer", which is also the name of the show's producer.
Community content is available under
CC-BY-SA
unless otherwise noted.