Long Run Home

Episode

15 of season 3

Director

Frank Orsatti

Writers

Allan Cole, Chris Bunch

Original airdate

February 1, 1980

Alias

David Beller

Preceded by

Followed by
Long Run Home is episode fifteen in season three of the live-action TV series The Incredible Hulk. It originally aired on February 1, 1980 on CBS.
David is given a ride by a defecting member of a motorcycle gang and quickly has to learn how to deal with the conflicts within motorcycle gangs and the attitudes of the rest of society towards this sub-culture.
Paul Koslo as Carl Rivers
Robert Tessier as Johnny
Mickey Jones as Doc
Stephen Keep Mills as Agent Fitzgerald
Edward Edwards as Bob
Pamela Jean Bryant as Ann
Albert Popwell as Doctor
Galen Thompson as Foreman
Highlights
Edit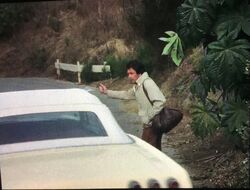 The interplay between David and Carl's characters are great
A shot in the second Hulk-out, busting Banner's biker helmet
Hulk-out 1: Making some Hell's Angels very angry with him
Hulk-out 2: Being run over by those same Hell's Angels
A variant of the fictional Wilco Oil of America logo from "Wildfire", also used for Westco Oil of America in "Vendetta Road", appears in this episode, this time representing Wesco Oil of America
Paul Koslo appears again in the episode "Veteran" (season 5)