Mark Ruffalo
Birth Name:
Mark Alan Ruffalo
Birth Date:
November 22, 1967

Birth Place:

Kenosha, Wisconsin, U.S.

Death Date:

Character Name:

Bruce Banner
Mark Ruffalo is the actor who portrays Bruce Banner in the 2012 superhero film The Avengers, the sixth installment of the Marvel Cinematic Universe. He replaced Edward Norton in the role. He was considered to play Banner in The Incredible Hulk before Norton took the role. The Avengers was the first production in which the actor playing Banner also plays the Hulk through the use of Avatar-style stop-action, stop-motion capture. He also provided the voice the Hulk's speaking lines. Ruffalo was a fan of the TV show.
Ruffalo received critical acclaim for his performance and will reprise the role in any future film adaptations of the character produced by Marvel Studios. On February 4, 2013, it was revealed that a third Hulk movie, based on the story arc Planet Hulk that ran through issues 92-105 of The Incredible Hulk comics would go into development and complete phase 3 after the release of The Avenger's 2 on May 1, 2015. It would then ultimately set up the World War Hulk story arc that ran through a self-titled limited 5-issue comic crossover for Marvel's The Avenger's 3.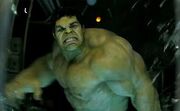 Community content is available under
CC-BY-SA
unless otherwise noted.