Married

Episode

1 of season 2

Director

Writer

Kenneth Johnson

Original airdate

September 22, 1978

Alias

David Benton

Location

Honolulu, Hawaii

Preceded by

Followed by

Married was the two-hour season two premiere episode of The Incredible Hulk. It originally aired on September 22, 1978, on CBS.
David travels to Hawaii to enlist the aid of Dr. Carolyn Fields, a psychiatrist who he believes will be able to help him, through hypnosis, to control his transformations into the Hulk. When David learns that she is stricken with a terminal illness, he agrees to offer his expertise in exchange for hers. As the two work closely together, they begin to form a bond and fall in love. But will this romance be wrought with tragedy?
Mariette Hartley as Dr. Carolyn Fields
Brian Cutler as Brad
Diane Markoff as The Girl
Duncan Gamble as Mark
Meeno Peluce as The Boy
Rosalind Chao as Receptionist
Russ Grieve as Conservative Man
Nat Jones as 1st Messenger
Russ Takaki as 2nd Messenger
Highlights
Edit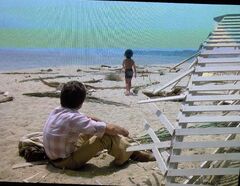 Bixby's and Hartley's topnotch performances, along with the excellent script, make this one of the best episodes of the series.
The scene when Hulk tears Brad and Mark's house apart.
Hulk-out 1: Under hypnosis, David remembers the first time he turned into the hulk with the car in the rain with a flat tire
Hulk-out 2: Trying to enter the house of a couple of bad guys who have invited his wife back to their place, he gets beat up and thrown from a balcony.
Hulk-out 3: David attempts to find an ailing Carolyn in a hurricane but the traffic and the storm itself causes another metamorphosis.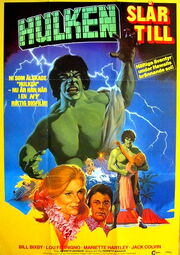 This was released theatrically in parts of Europe under the title The Bride of the Incredible Hulk
Mariette Hartley won the Emmy Award for Outstanding Lead Actress in a Drama Series
This is the first episode (of 2) where the Hulk and Banner appear on screen together (in a dream sequence) (the other time is in the season 3 premiere "Metamorphosis")
It contains the most screen time featuring the Hulk of any episode – four Hulk-outs in total (the same as in "Death In The Family"), in addition to the dream sequence and flashbacks to the pilot episode
The scene with Bixby and Ferrigno together was filmed at the Imperial Sand Dunes Recreation Area, California
Mariette Hartley and Loni Anderson ("Of Guilt Models And Murder") have both said that Bill Bixby was their favorite actor to work with
Several season 4 episodes ("Free Fall", "Dark Side", "Deep Shock", "Bring Me the Head of the Hulk", "Fast Lane", "King of the Beach") used some of the music heard in "Married", with slightly different instruments.
Community content is available under
CC-BY-SA
unless otherwise noted.