Metamorphosis

Episode

1 of season 3

Director

Alan J. Levi

Writer

Craig Buck (teleplay)
Frank Dandridge (story)

Original airdate

September 21, 1979

Preceded by

Followed by
Metamorphosis is episode thirty-five (and season 3 premiere) of the live-action TV series The Incredible Hulk. It originally aired on September 21, 1979 on CBS.
When David rescues a suicidal rock star from a fiery car crash, she develops an emotional dependence on him. In order to ensure her safety, he takes a job as one of her road crew. However, it becomes readily apparent that the rigors of the rock-and-roll lifestyle really are not for her or him.
Lou Ferrigno ... The Hulk
Katherine Cannon ... Jackie Swan
Gary Graham ... Greg
James Reynolds ... Ken
Mackenzie Phillips ... Lisa Swan
Jennifer Holmes ... Diane Markon
Highlights
Edit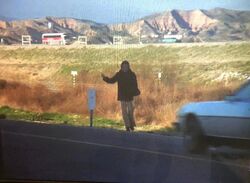 Great special effects (for its time) – the Hulk shoots a bolt of electricity from his hand
The Hulk showing how much he hates Banner, while in a drugged state
Hulk out 1:  Unknowingly having one of the other guys in the rock band crew helpfully add some "orange sunshine" LSD to David's orange juice, so that David has a really bad trip
Hulk out 2: Getting trampled by the audience at a rock concert
Contains the often used scene of the Hulk running away down the lighted alleyway
Community content is available under
CC-BY-SA
unless otherwise noted.