Nine Hours

Episode

22 of season 3

Director

Nicholas Corea

Writer

Nicholas Corea

Original airdate

April 4, 1980

Alias

David Breck

Preceded by

Followed by
Nine Hours is episode fifty-six of the live-action TV series The Incredible Hulk. It originally aired on April 4, 1980 on CBS.
David has only nine hours to save a young boy and a reformed mobster from some angry killers. His only hope is to enlist the help of an alcoholic ex-police officer.
Lou Ferrigno ... The Hulk
Marc Alaimo ... Joe Lo Franco
Sheila Larken ... Rhonda Wilkes
Frank DeKova ... Sam Monte
Doris Dowling ... Mrs. Grasso
Phil Rubenstein ... Fats
David Comfort ... Timmy Wilkes
Sam Ingraffia ... Slick Monte
Hal Bokar ... Captain Deeter
Dennis Haysbert ... Guard
John Medici ... Danny
Highlights
Edit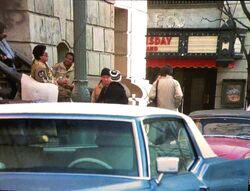 One particularly good scene involves the Hulk screaming in frustration when he can't find the car that he is looking for amidst the rush hour traffic of a big city
Hulk out 1: Being hit by a car and knocked twenty feet so that he tumbles down a conveniently open manhole
Hulk out 2: Being shot at close range with a silenced pistol, after standing up to the mob's enforcers
Marc Alaimo also appeared in "The Slam" (season three), and in "Alice In Disco Land" (season two)
Sheila Larken also appeared in "The Waterfront Story" (season one)
There is a brief in-joke in this episode: at one point, the voice over a loudspeaker in the hospital requests a Dr. Corea, an obvious reference to Hulk co-producer Nicholas Corea (who wrote and directed this episode)
Community content is available under
CC-BY-SA
unless otherwise noted.