No Escape

Episode

18 of season 2

Director

Jeffrey Hayden

Writer

Benjamin Masselink

Original airdate

March 30, 1979

Alias

David Baron

Preceded by

Followed by

No Escape is episode thirty of the live-action TV series The Incredible Hulk. It originally aired on March 30, 1979, on CBS.
When David is arrested for vagrancy, he is placed in a police van where he encounters a man who envisions himself as the deceased writer Ernest Hemingway. But when a fight provokes David's transformation into the Hulk, our hero escapes, inadvertently freeing the mentally-ill man in the process. David must help find the man before he hurts himself or someone else.
James Wainwright as Tom Wallace
Mariclare Costello as Kay Wallace
Skip Homeier as Dr. Robert Stanley
Thalmus Rasulala as Dep. Chief Harry Simon
Sherman Hemsley as Robert
Tom Lowell as Mathews
Howard Brunner as 1st Officer
Lynn Randall as 1st Reporter
George J. Cooper as 2nd Reporter
Jerry Fitzpatrick as 2nd Officer
Chris Peterson as Steve
Andy Enberg as Jimmy
Jack Kirby as Sketch Artist (uncredited cameo; see below)
Highlights
Edit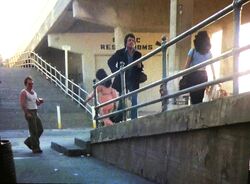 Hulk out 1: Locked in a drunk tank with a crazy person who insists he is Ernest Hemingway and then beats the stuffing out of David
Hulk out 2: Being tear gassed
Kirby appearance
Edit
The police sketch artist is a cameo appearance by Jack Kirby, co-creator of the Hulk with Stan Lee. He is sketching a witnesses description of the creature. Upon examining his sketch closely, it looks like his Marvel character, done in the usual Kirby style. This is the first live-action cameo appearance of a Marvel creator in an adaptation of Marvel Comics.[1] Stan Lee appears in a cameo, for the first time, in 1989's Trial of the Incredible Hulk, and has continued this tradition into the present day.
References
Edit
Community content is available under
CC-BY-SA
unless otherwise noted.