Rainbows End

Episode

4 of season 2

Director

Kenneth Gilbert

Writers

Karen Harris, Jill Donner

Original airdate

October 13, 1978

Alias

David Bishop

Preceded by

Followed by

Rainbows End is episode sixteen of the live-action TV series The Incredible Hulk. It originally aired on October 13, 1978, on CBS.
While investigating the possibility of using a native Indian's medicine as a means for controlling his transformations into the creature, David becomes mixed up in a plot to kill a champion racehorse.
Michele Nichols as Kim Kelly
Ned Romero as Thomas Logan
Gene Evans as Jimmy Kelly
Craig Stevens as Laurence Henry Carroll III
Larry Volk as Andy Cardone
Warren W. Smith as Security Guard
John Myhers as Man On The Bus
Highlights
Edit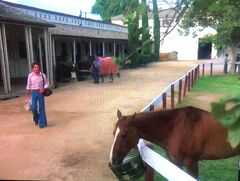 This otherwise ordinary episode is helped along by the friendship David develops with the lead guest star
Hulk-out 1: Having a burning 2x4 fall on his head while trying to get the horse out of the burning barn
Hulk-out 2: Being trampled by a crowd and having the hot coffee spilled on his hand while trying to get to the sniper