Ricky

Episode

3 of season 2

Director

Frank Orsatti

Writer

Jason Summers

Original airdate

October 6, 1978

Alias

David Beckman

Location

New Mexico

Preceded by

Followed by

Ricky is episode fifteen of the live-action TV series The Incredible Hulk. It originally aired on October 6, 1978, on CBS.
David takes a job at an auto-racing track, helping out an aspiring race-car driver and his mentally handicapped brother. Things turn ugly when a rival racing outfit tries to "guarantee" a second place finish for David's team.
Lou Ferrigno ... The Hulk
Robin Mattson ... Irene Shannon
Gerald McRaney ... Sam Roberts
James Daughton ... Buzz Detter
Mickey Jones ... Ricky Detter
Gordon Jump ... Mac
Eric Server ... Ted Roberts
Highlights
Edit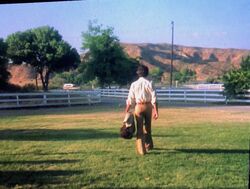 Micky Jones (who's also in "Long Run Home" and "Triangle") does a good job as Ricky
There's a humorous scene where Ricky teaches Hulk how to open a can of soda pop
Hulk-out 1: Finding out that his somewhat slow friend Ricky has locked himself in a shed in a car with the engine running, and then trying to break the lock with a shovel, only to have the rusty shovel snap and clobber his fingers
Hulk-out 2: Driving into the demolition derby because Ricky has driven a potentially explosive car into the derby, only to have his car bashed by the other cars on the field so that nobody can hear his frantic cries of "No! Ricky! RICKY!"
This was the first of 12 episodes directed by Frank Orsatti (more than any other director for the series). He was Bill Bixby's stunt double for season one, and also acted a part in "Killer Instinct".
Community content is available under
CC-BY-SA
unless otherwise noted.