Sanctuary

Episode

4 of season 5

Director

Chuck Bowman

Writer

Deborah Dean Davis

Original airdate

November 6, 1981

Alias

Father Costa

Location

New Mexico

Preceded by

Followed by
Sanctuary is episode four in season five of the live-action TV series The Incredible Hulk. It originally aired on November 6, 1981 on CBS.
In order to protect a wounded Mexican boy from deportation and certain death, David poses as a clergyman to help hide the young man in a sanctuary.
Lou Ferrigno ... The Hulk
Diana Muldaur ... Sister Anita
Fausto Barajas ... Rudy
Guillermo San Juan ... Roberto
Jerry Hardin ... Sheriff Dean
Edie McClurg ... Sister Paulina
Henry Darrow ... Patrero
Michael Santiago ... Father Costa
Paul Tuerpe ... Father Young
Bert Santos ... Franco
Barbara Beaman ... Sister Rebecca
Rick Garcia ... Truck Driver
Adam S. Bristol as Shlomo Jonas
Diana Muldaur plays a nun here, and consequently is frequently addressed by David as "Sister"; in "Homecoming" (season 1), she played David's sister
This was the only episode in which Michael Santiago appears in a guest-starring role. In five previous episodes, he provided the voice heard over the p.a. system
Highlights
Edit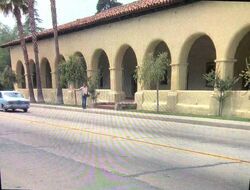 Bixby does a good job posing as a priest via the character of David Banner
Hulk out 1: Being chained to a stump in a monastery by a pair of bad guys
Hulk out 2: Crashing his car while driving a nun and a boy away from bad guys
Sometimes faith is all that keeps us going. —Dr. David Bruce Banner
Community content is available under
CC-BY-SA
unless otherwise noted.