Stop the Presses

Episode

9 of season 2

Director

Jeffrey Hayden

Writers

Karen Harris, Jill Sherman Donner

Original airdate

November 24, 1978

Alias

David Bernard

Location

Chicago

Preceded by

Followed by

Stop the Presses is episode twenty-one of the live-action TV series The Incredible Hulk. It originally aired on November 24, 1978 on CBS.
David's picture is taken by an employee of the National Register while working in a restaurant that is the subject of a smear campaign. Now, it is up to David to break into the National Register building and get the picture back before Jack McGee sees it. Unfortunately, Mr. McGee happens to be working late that night!
Julie Cobb as Jill Norton
Mary Frann as Karen Weiss
Pat Morita as Fred
Art Metrano as Charlie
Sam Chew Jr. as Joe Arnold
Richard O'Brien as Mark Roberts
Judson Pratt as Guard Samuelson
Janet Brandt as Lenette Logan
Michael Griswold as Mr. Geller
Tain Bodkin as Game Warden
Sandy Champion as Printer
Donald Petrie as Copyboy
Highlights
Edit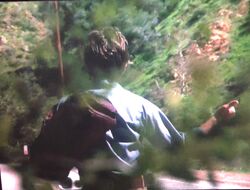 A light-hearted episode with Pat Morita (The Karate Kid, Happy Days) as a sarcastic chef
The scene in which David has to hide in a crowded elevator because Jack McGee enters the same elevator
Hulk out 1:  Being caught taking photos of tough guys committing monkey business in the restaurant, and then being beaten up and thrown under a table
Hulk out 2: Getting his jacket caught in the printwheels at the newspaper printing room, and then inexplicably sticking his hand into the rollers
Quotations
Edit
"I love brainy dishwashers." —Karen White
The name of the National Register's unseen publisher, Robert Steinhauer, is an inside-joke reference to the show's co-producer/unit production manager Robert Bennett Steinhauer
Writers Karen Harris and Jill Sherman Donner used their own first names for the two lead female characters
This episode is the first of four appearances for Mark Roberts, McGee's editor
Mary Frann is best known for playing Joanna on Newhart (1982–90)
Julie Cobb is the daughter of actor Lee J. Cobb.
A rare instance in the series in which the Hulk reverts back to Banner offscreen the first Hulkout, but Onscreen the second