The Confession

Episode

20 of season 2

Director

Barry Crane

Writer

Deborah Dean Davis

Original airdate

May 4, 1979

Alias

David Benton / David Beaman

Location

Santa Clara, CA

Preceded by

Followed by
The Confession is episode thirty-two of the live-action TV series The Incredible Hulk. It originally aired on May 4, 1979 on CBS.
Jack McGee gets a student reporter, Pamela Norris, assigned to be trained by him. Harold Milburn tells McGee and Pamela that he is the man who becomes the Hulk. Because of his experiences in the episode "Mystery Man", McGee is apt to disbelieve him. Pamela writes a story based on an interview in which she states that Harold is not the Hulk. The story is an instant success—but not for Harold, who is furious at her for denying his claims. Harold goes up a bell tower, threatening to jump. David tries to keep Harold from killing himself. David is then trapped there because he could not get away fast enough to avoid being seen (McGee is on the ground outside). So the bell starts ringing, and it is so loud that it makes David "Hulk out" (see image). Hulk walks over to the bell, pulls it off and throws it out of the tower onto the street.
Barry Gordon as Harold Milburn
Markie Post as Pamela Norris
Elaine Joyce as Waitress
John Armstrong Marshall as Ernie
Angus Duncan as Alan O'Neil
Michael Laurence as Newsman
Fritzi Burr as Gladys
Clint Young as Night Guard
Hollis Irving as Mrs. Goldsmith
Gloria Delaney as Woman At Desk
Yusy Flanigan as Girl
Kenny Davis as Crewman
Ron Taft as Man
Earl Colbert as Harry
Walter Janovitz as Carl
Quotation
Edit
If you keep giving this guy [Harold] media exposure, you're setting him up for a hell of a disappointment. —Jack McGee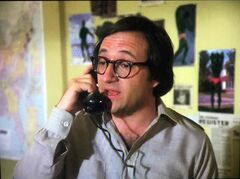 Highlights
Edit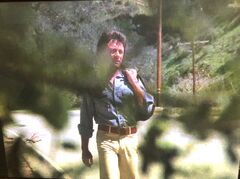 A classic scene where the Hulk goes into a bowling alley, frightens all the guests except the one with his hearing aid turned off, then bowls a frame that destroys all the pins.
Hulk-out 1: While working as a janitor at a medical center, David injects himself with an experimental drug that drives his blood pressure up to the point where he is about to go into cardiac arrest
Hulk-out 2: Somehow getting himself into a belfry and then realizing that a bell is there, just as it strikes the hour
This is the first of five episodes directed by Barry Crane.
This was the last episode in which Ted Cassidy (who passed away on January 16, 1979, at age 46, due to complications from heart surgery) would use his basso-profundo voice to provide the Hulk's growls, snarls, howls, roars, and grunts.
Community content is available under
CC-BY-SA
unless otherwise noted.