The Disciple

Episode

17 of season 2

Director

Reza Badiyi

Writers

Nicholas Corea, James G. Hirsh

Original airdate

March 16, 1979

Alias

David Blaine

Location

San Fransisco, CA

Preceded by

Followed by

The Disciple is episode seventeen in season two of the live-action TV series The Incredible Hulk. It originally aired on March 16, 1979, on CBS. It is the sequel to the episode "Another Path."
David returns to San Francisco to continue working with his old friend Li Sung on a cure for his becoming the Hulk. Unfortunately, the old philosopher is now dying, and his entire dynasty will fade away unless one of his students can be convinced to take over his teachings.
Rick Springfield as Michael Roark
Gerald McRaney as Colin Roark
George Loros as Joe Lynch
John Fujioka as Man
Mako as Li Sung
Lina Raymond as Jo Lee
Stacy Keach Sr as Sgt. Tim Roark
Fred Ward as Lynch's Henchman
Bill Dietz as Newscaster
Anne Bellamy as Michael's Mother
Rene Le Vant as 1st Cop
Frederic Franklin as Lynch's Doctor
Brian Baker as Thayer
Doug McGrath as Al
Arliss Howard as Policeman (unconfirmed)
Andy Carpenter as Shaggy Haired Karate Kid
Highlights
Edit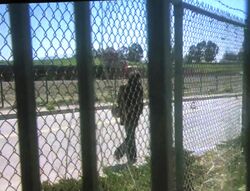 Hulk out 1: With his hands and feet in a metal brace, the Chinese martial arts master collapses and David screams for help
Hulk out 2: Getting stuck in the back of a police car
This episode was the proposed pilot for a spin-off series starring Rick Springfield that never materialized
Gerald McRaney makes his third appearance
Contains the often used scene of the Hulk running away down the lighted alleyway
This episode contains the often used scene of the Hulk running away down a lighted alley
Community content is available under
CC-BY-SA
unless otherwise noted.