The Haunted

Episode

14 of season 2

Director

John McPherson

Writers

Andrew Schneider, (story by Karen Harris & Jill Sherman Donner)

Original airdate

February 7, 1979

Alias

David Barrett

Location

New Hampshire

Preceded by

Followed by

The Haunted is episode twenty-six of the live-action TV series The Incredible Hulk. It originally aired on February 7, 1979, on CBS.
David helps a young woman move back into an old house where she lived many years ago. David soon learns that the woman had a twin sister who drowned there years before, and that strange events may bring about more death and mayhem.
Carol Baxter as Renee Stevens
John O'Connell as Bernard Stevens
Johnny Hamer as Fred Lewitt
Randi Kiger as Renee as a Child
Jon Lormer as Dr. Rawlins
Iris Korn as Woman
Highlights
Edit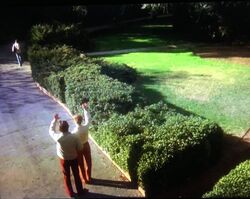 It plays like an Edgar Allen Poe story. A little more intellectual than many other Hulk episodes, it really delves into psychology and insanity. It is the closest Hulk episode to the horror genre.
Hulk out 1: Somehow locking himself in an old, dark basement, and then nearly electrocuting himself (really has to be seen to be believed)
Hulk out 2: Falling into the churning water of a boathouse, and then inexplicably being repeatedly carried over the paddlewheel (this one is stranger than the one above)