The Psychic

Episode

18 of season 3

Director

Barry Crane

Writers

Karen Harris, Jill Sherman Donner, George Arthur Bloom (story)

Original airdate

February 22, 1980

Location

San Francisco

Preceded by

Followed by
The Psychic is episode eighteen in season three of the live-action TV series The Incredible Hulk. It originally aired on February 15, 1980 on CBS.
David's secret is discovered by a woman with psychic powers. The creature has recently been implicated in the murder of a teenager, so she attempts to turn him over to Jack McGee. However, a chance accident proves to her that David is not a ruthless killer and they become close friends. Her psychic powers also predict that Jack McGee will be murdered by the real killer. Can David rescue McGee without being discovered?
Brenda Benet as Annie Caplan
Nick Pellegrino as Manager
Sue Ann Gilfillan as Switchboard Supervisor
Stephen Fanning as Johnny Wolff
Judy Jean Berns as Mrs. Donner
David Anthony as Robbie Donner
Bert Hinchman as Joe 'The Green' Grocer
Jason Ross as Beat Cop
Thomas Hilliard as Doctor
Marilyn Allen as Woman
Andrea Pike as Young Girl
Eugene Jackson as Pedestrian
Jesse Wayne as Delivery Man
Chino 'Fats' Williams as Pedestrian
Highlights
Edit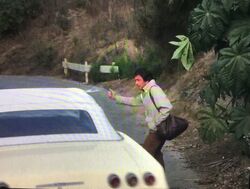 A powerful scene during the climax when McGee extracts the truth from one of Christopher's friends that it was he, and not the Hulk who inflicted the fatal wound
Hulk-out 1: Foolishly running in and trying to help a man who brought a lit cigarette into a room full of toxic vapors, only to have an explosion throw him across the room and into the row of heavy C02 containers, which all fall on him
Hulk-out 2: Hit in the face with a high powered bee-bee gun, which causes him to fall over the balcony and plunge 40 feet into the seats below
The episode starts with David already transformed into the Hulk
Brenda Benet (as the psychic) was Bixby's wife at the time of filming. They later divorced, and then suffered a serious tragedy when their young son, Christopher, died in a hospital waiting room. Benet was so overcome with grief that she later took her own life. (Ironically, her character, was admittedly suicidal over a past failure to save a child).
The characters of Mrs. Donner and Robbie Donner were named by episode co-writer Jill Sherman after her future husband Robert Donner, who appears in the episodes "Sideshow" and "The Phenom".
One of the few episodes to depict science-fiction or fantasy concepts other than the ubiquitous Hulk himself (though no special effects were used to depict her psychic powers).
Community content is available under
CC-BY-SA
unless otherwise noted.