The Waterfront Story

Episode

12 of season 1

Director

Reza Badiyi

Writers

Paul M. Belous, Robert Wolterstorff

Original airdate

May 31, 1978

Alias

David Barton

Location

Galveston, Texas

Preceded by

Followed by

The Waterfront Story is episode twelve (and season 1 finale) of the live-action TV series The Incredible Hulk. It originally aired on May 31, 1978, on CBS.
Working as a bartender in Texas, David finds himself and his boss (who is recently widowed) in the middle of a battle for control over a dock worker's union.
Sheila Larken as Josie Larkin
James Sikking as Cliff McConnell
Jack Kelly as Tony Kelly
Helen Page Camp as Sarah
Ted Markland as Marty Hammond
William Benedict as Vic
Joseph V. Perry as First Mate
Robert Hackman as Nightwatchman
John Zenda as Dockworker
Tonyo Melendez as Trucker
Anthony Davis as 1st Policeman
Brian Baker as 3rd Policeman
Blake Marion as 2nd Policeman
John Colton as Customer
Highlights
Edit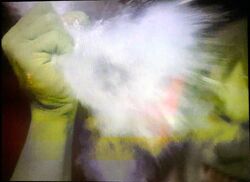 Excellent screen chemistry between Bixby and Larken
The Hulk crushing a billiard ball with his hand (right)
Hulk-out 1: Getting in a barroom brawl and being thrown behind the bar
Hulk-out 2: Being placed in a cargo crate with his friend and being hoisted onto an outbound freighter, but having all the dockworkers ignore his screams for help
This is the first of eight episodes directed by Reza Badiyi.
This is one of the few episodes that begins with David as the Hulk.
Community content is available under
CC-BY-SA
unless otherwise noted.