Vendetta Road

Episode

22 of season 2

Director

John McPherson

Writer

Michael McGreevey, Justin Edgerton (story)

Original airdate

May 25, 1979

Alias

David Brennan

Location

Arkansas

Preceded by

Followed by
Vendetta Road is episode thirty-four (and season 2 finale) of the live-action TV series The Incredible Hulk. It originally aired on May 4, 1979 on CBS.
Being in the wrong place at the wrong time leads to trouble for David (yet again) when he becomes mixed up in a vendetta by a young "Bonnie & Clyde"-type couple. The boy and the girl are busy blowing up the gas stations of a corporation which caused the death of the boy's father. David soon learns that the girl is pregnant and realizes that the only way to prevent more tragedy is to get their story to the press before they can be caught by the law.
Lou Ferrigno ... The Hulk
Ron Lombard ... Ray Floyd
Christina Hart ... Cassie Floyd
Howard Morton ... John Fielding
Morgan Woodward ... Ben Madrid
Chip Johnson ... Greg Bantam
Robert Ackerman ... Sheriff
Michael Potter ... Spalding
Justin Smith ... Jed
Larry French ... Hank
Tobias Andersen ... Earl
Don Furneaux ... Sam Butler
Tom Kindle ... Waylon
Michael Champion ... Del
Jesse Doran ... Guard
Highlights
Edit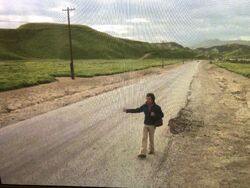 A hilarious scene in which the Hulk faces off against the moonshine-brewing country hicks
Hulk out 1: Being stuck in a cabin that the police are turning into swiss cheese with their shotguns, even though he and the pregnant woman have no guns and have waved the white flag, only to have the police bullets start a fire in the cabin, etc., etc.
Hulk out 2: Beaten up by a bunch of mean cops who will not listen to him saying "Hey! Don't touch that woman! She's pregnant! No!"