Wildfire

Episode

11 of season 2

Director

Frank Orsatti

Writer

Brian Rehak

Original airdate

January 17, 1979

Alias

David Blakeman

Location

Phoenix, Arizona

Preceded by

Followed by

Wildfire is episode twenty-three of the live-action TV series The Incredible Hulk. It originally aired on January 17, 1979 on CBS.
David discovers that the oil rig he is working on is the target of a saboteur determined to set the rig on fire.
Christine Belford as Linda Callahan
Billy Green Bush as Ray Thomas
John Anderson as Mike Callahan
Dean Brooks as Frank Adler
Ernie F. Orsatti as Phil Haze
John Petlock as Tim Wade
Highlights
Edit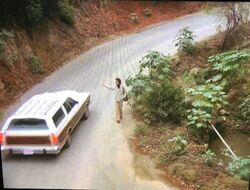 Notable for the fact that David Banner actually puts up a decent fight against an assailant in this one
Hulk out 1: Getting put into a 55-gallon drum and carried away on a truck
Hulk out 2: Getting beat up while trying to keep the bad guy from blowing up the mine that's on fire before the crew is ready
Ernie Orsatti is director Frank Orsatti's brother.
Community content is available under
CC-BY-SA
unless otherwise noted.